All about the amazing parish council home page
OgImage:


Singleton Parish Council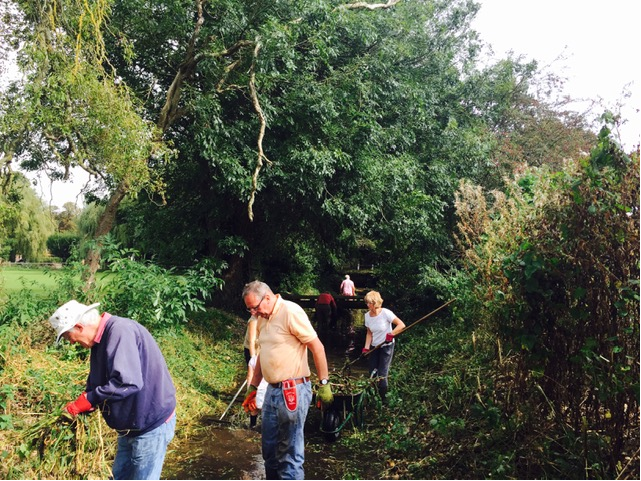 ( Volunteers Clearing the River Lavant )
This website provides information about the activities of the Parish Council in the villages of Singleton and Charlton - pretty villages situated in the Lavant Valley, a few miles north of Chichester in West Sussex.
All of our councillors are volunteers and are committed to representing their community. They:
give views, on behalf of the community, on planning applications and other proposals that affect the parish
undertake projects and schemes that benefit local residents
work in partnership with other bodies to achieve benefits for the parish
alert relevant authorities to problems that arise or work that needs to be undertaken
help the other tiers of local government keep in touch with their local communities
We want to work closely with our community and encourage residents to get in touch with us and attend meetings. Please get in touch and join our mailing list, mailchimp
Full Parish Council Meeting
Singleton Village Hall
Wednesday 7:00 pm
View Details
How to report issues to WSCC
The WSCC Love West Sussex app can be used to report potholes, graffiti, fly tipping, damaged pavements and many more. Simply send in your report using the WSCC free mobile app, a text or picture message. Love West Sussex will deal with your report and we will send you a message when it's complete.
http://love.westsussex.gov.uk/reports/home
Latest Parish News
Singleton and Charlton Parish Council
Planning Meeting to discuss the Planning Application for The Old School House
08

Singleton and Charlton Parish Council
Planning Meeting
To discuss Planning Application 20/01068 & 20/01069
The Old School House
To be held on
Wednesday 12th August 2020
At
7pm
This will be a Virtual Meeting
If you would like to join this meeting please contact the Clerk
On
01243 811810
Or
Chichester District Council
05

Tuesday 4 August 2020
Issued by the Communications Team –publicrelations@chichester.gov.uk
www.chichester.gov.uk/coronavirus
www.facebook.com/ChichesterDistrictCouncil
This briefing is to keep you updated on the evolving situation around coronavirus (COVID-19) and the actions being taken in the district.It is currently issued once a month.
Who does it affect?
Residents and businesses within the district
Chichester District Council staff and councillors
Parish councils
Community groups and charitable organisations
Latest update
Service changes
COVID-19 Recovery plan approved
District Dispatch – Economic Recovery
Council boosts tourism sector with £150,000 investment
Free pavement licences to help restaurants and cafes
'Eat Out to Help Out' scheme restaurant finder and reimbursement
Parking offers
We're here to help – advice on accessing our services
Project to increase short stay homeless accommodation reaches key milestone
Council tax hardship scheme expanded to help more financially vulnerable residents
The Novium Museum shortlisted for national award for lockdown activities
Help us in our fight 'Against Litter'
Have your say on dog control rules in the Chichester District
Beach goers urged to follow foreshores safety guidelines this summer
Chichester Wellbeing launch online Move it and Lose it workshops
Face covering mandatory in additional public spaces
Free downloadable posters for businesses
Coronavirus Job Retention Scheme
Getting Tested
Coronavirus FAQ on what the public can and can't do
Better Health Campaign
Latest update
The Government's new 'Eat out to Help out' scheme has started this month, to support restaurants, cafes, hotels and pubs. Please see further details below.
The Government paused shielding from 1 August, but this could change if the transmission of COVID-19 in the community starts to rise significantly. You can find more information herehttps://www.gov.uk/government/publications/guidance-on-shielding-and-protecting-extremely-vulnerable-persons-from-covid-19
On Saturday 1 August, the government had hoped to reopen a number of higher risk settings that had remained closed in England. The Prime Minister confirmed that these changes are being postponed for at least a fortnight.
This means that, until 15 August at the earliest:
· casinos, bowling alleys, skating rinks and remaining close contact services must remain closed. Indoor performances will not resume.
· pilots of larger crowds in sports venues and conference centres will not take place.
· wedding receptions of up to 30 people will not be permitted, but ceremonies can continue to take place, in line with COVID-Secure guidelines.
The government will also extend the requirement to wear a face covering to other indoor settings where the public are likely to come into contact with people you do not normally meet, such as museums, galleries, cinemas and places of worship.
The government now recommends face coverings are worn in these settings, and this will become enforceable in law from 8 August.
People are being urged to stay alert, follow social distancing advice, wear a face covering in enclosed spaces and wash their hands regularly. More information can be found atwww.gov.uk/coronavirus
Service changes
All of our services are currently running as normal, but you can visit:https://www.chichester.gov.uk/councilservicestatus for all the latest information.
COVID-19 Recovery Plan approved
Preventing homelessness, providing more community grants and helping to support the arts and tourism industry are some of the immediate key aims of a COVID recovery plan that have been set out for the Chichester District. Over the next year, the council will focus on four key recovery areas: community and housing; economic; planning, health and environmental protection; and organisational. You can find out more herehttps://www.chichester.gov.uk/article/34286/Council-sets-out-its-key-priorities-in-COVID-recovery-plan-for-Chichester-District
District Dispatch – Economic Recovery
Over the next few weeks, our cabinet members are explaining each recovery area in more detail through district dispatch. You can read more about this here https://www.chichester.gov.uk/districtdispatch
Last week, Cllr Roy Briscoe focused on the community recovery, https://www.chichester.gov.uk/article/34311/District-Dispatch---Community-Recovery - highlighting on how we are supporting our communities and voluntary sector, including new grant funding.
This week, Cllr Martyn Bell explains our plans for the economic recovery in the district, including how have been working with business groups and associations, parish, town and city councils, West Sussex County Council and Chichester BID to identify the support needed in each of our locations. He also explains about how the council will shortly be setting up a £250,000 grant fund to help eligible businesses with their recovery plans. You can read more here: https://www.chichester.gov.uk/article/34322/Business-recovery-plans
Council boosts tourism sector with £150,000 investment
A major-long term investment to boost jobs and the economy in the tourism sector has been agreed by the council.
We have trebled our annual funding to £150,000 as part of a five year plan to support Visit Chichester following the coronavirus pandemic. This will enable Visit Chichester – which supports holiday accommodation, venues, museums, gardens, retail outlets, the arts, the festival theatre and the cathedral – to pioneer new approaches to attracting people to the region. Find out more herehttps://www.chichester.gov.uk/article/34280/Council-boosts-tourism-sector-with-150000-investment
Free pavement licences to help eligible businesses
Chichester District Council has announced that it will issue free temporary pavement licences to eligible hospitality businesses.
Short-term pavement licences are being issued to help pubs, bars, cafes, restaurants, snack bars, coffee shops and ice cream parlours, which have been closed for months during the coronavirus lockdown. To apply or find out more about this please visitwww.chichester.gov.uk/pavementlicences
'Eat Out to Help Out' scheme restaurant finder and reimbursement
Please support our local restaurants, cafes, pubs and hotels by using the 'Eat Out to Help Out Scheme' this month. The offer can be used Monday to Wednesday throughout August and offers every diner a 50% discount of up to £10 per head on their meal, in any participating food service establishment. HMRC has launched an online tool for the public to find restaurants that are registered for the Eat Out to Help Out Scheme. The restaurant finder tool shows results within a 5-mile radius of a postcode.
Restaurant finder tool: https://www.tax.service.gov.uk/eat-out-to-help-out/find-a-restaurant/
HRMC has also published guidance for registered establishments on how to claim the reimbursement for discounts given to diners with the Eat Out to Help Out Scheme. Guidance:https://www.gov.uk/guidance/claim-money-back-through-the-eat-out-to-help-out-scheme
Parking offers
Don't forget, that if you are paying to park in Chichester District Council car parks, you can select two hours and get a third free if you use the Mipermit app until 7 September. You can find out about the app at https://www.mipermit.com/
Using MiPermit means you won't need to use the parking machines, providing you with a cash-free option, to help reduce the spread of COVID-19. Plus, you can also extend your parking using the app, if you need more time while shopping. We are also offering free parking at Avenue de Chartres car park every weekend until 7 September. You can find out more here https://www.chichester.gov.uk/parking
We're here to help – advice on accessing our services
Although our offices are currently closed to the public due to Covid-19, we are still here to help.
Our services can be accessed anytime, anywhere atwww.chichester.gov.uk
If you can't find what you are looking for, you can email us atcontact@chichester.gov.uk
You can also reach us on the phone between 9am and 5pm weekdays on 01243 785166.
If you need to contact us out of working hours (after 5pm weekdays and throughout the weekend) and it's an emergency, please call us on 01243 785339.
If you need an emergency face to face appointment, please call us on 01243 785166 and we will arrange for you to be seen by a member of our staff.
If you need to buy a visitor's car parking permit, please call us on 01243 534500 so that we can take payment and send this to you through the post.
If you want to watch one of our public meetings, you can now do this by visitingwww.chichester.gov.uk/viewcouncilmeetings
If you want to access help from the Citizens' Advice Bureau please visitwww.citizensadvice.org.uk or call them on 0800 144 8444 between the hours of 8am and 6pm.
Thank you for your continued patience and support during this time.
Project to increase short stay homeless accommodation reaches key milestone

The next stage of a project to increase the amount of much-needed short stay accommodation for people facing homelessness in the Chichester District has reached another important milestone. Councillors have reviewed the project proposals to redevelop one of its properties, which will provide an additional 17 flats for people who are homeless, and have given the go ahead to proceed to the next stage. It is anticipated that work will start on site this year. You can find out more herehttps://www.chichester.gov.uk/article/34288/Project-to-increase-short-stay-homeless-accommodation-reaches-key-milestone

Council tax hardship scheme expanded to help more financially vulnerable residents

Leading councillors have agreed to expand a scheme to those who are struggling to pay their council tax in the Chichester District. The scheme has now been expanded to cover pension-age recipients of Council Tax Reduction and all council tax payers that are financially vulnerable as a result of the pandemic. You can find out more herehttps://www.chichester.gov.uk/article/34224/Council-tax-hardship-scheme-expanded-to-help-more-economically-vulnerable-residents-in-Chichester-District

The Novium Museum shortlisted for national award for lockdown activities

Chichester's award winning Novium Museum has been recognised by Kids in Museum for its Virtual Roman Week festival, receiving praise for providing engaging interactive online activities for families to enjoy during lockdown. You can find out more herehttps://www.chichester.gov.uk/article/34287/The-Novium-Museum-shortlisted-for-national-award-for-virtual-lockdown-activities The museum and Chichester Tourist Information Centre is now open from Tuesday to Saturday, 11am until 4pm. You can find out more and book by visitinghttps://www.thenovium.org/reopening



Help us in our fight 'Against Litter'

Members of the public are being urged to dispose of their litter and instant barbecues properly this summer as people head out to enjoy the sunshine. Litter Enforcement Officers have been working with Chichester District Council's Environmental Protection Team to tackle littering and dog fouling offences across the district. Find out more herehttps://www.chichester.gov.uk/article/34263/Residents-and-visitors-in-Chichester-District-urged-to-dispose-of-litter-properly-over-the-summer You can also find out more about how you can get involved in our 'Against Litter' campaign herewww.chichester.gov.uk/againstlitter

Have your say on dog control rules in the Chichester District

Chichester District Council is reviewing the rules for dogs in public spaces and is asking people to give their views in a new public consultation. You can respond until midnight on 14 August 2020. Find out more herehttps://www.chichester.gov.uk/article/34265/Residents-encouraged-to-have-their-say-on-dog-control-rules-in-the-Chichester-District

Beach goers urged to follow foreshores safety guidelines this summer

The council is reminding people to follow its Foreshores Code of Conduct and maintain social distancing to ensure that everyone can enjoy the district's beaches safely this summer. Find out more herehttps://www.chichester.gov.uk/article/34252/Beach-goers-urged-to-follow-foreshores-safety-guidelines-this-summer

Coronavirus Job Retention Scheme

Employers should be aware that changes to the Coronavirus Job Retention Scheme have been made.

What employers need to do from 1 August:

· From 1 August 2020 the scheme will no longer fund employers' National Insurance (NI) and pension contributions. Employers will have to make these payments from their own resources for all employees, whether furloughed or not.

HMRC also published guidance on 28 July outlining what employers who have claimed too much, or not enough, from the Coronavirus Job Retention Scheme need to do.

Guidance:https://www.gov.uk/guidance/if-youve-claimed-too-much-or-not-enough-from-the-coronavirus-job-retention-scheme

Information has also been published on the penalties for not telling HMRC about Coronavirus Job Retention Scheme grant overpayments.

Coronavirus FAQ on what the public can and can't do

The Cabinet Office FAQ outlining what the public can and can't do during the coronavirus outbreak was updated at the weekend to reflect the latest government guidance. A section has also been added on looking after grandchildren.

FAQ:https://www.gov.uk/government/publications/coronavirus-outbreak-faqs-what-you-can-and-cant-do

Better Health campaign

Public Health England has launched the Better Health campaign to support people to live healthier lives and reduce their risk of serious illness, including COVID-19.

The campaign – unveiled as part of the government's new Obesity Strategy – encourages adults to introduce changes that will help them work towards a healthier weight, with a suite of free tools and apps supporting people to eat better, drink less alcohol and get active. This includes a new app for the free 12-week NHS Weight Loss Plan, helping people make healthier food choices and learn skills to prevent weight gain.

Announcement:https://www.gov.uk/government/news/major-new-campaign-encourages-millions-to-lose-weight-and-cut-covid-19-risk

°C

%
mph
FRI
° °
SAT
° °
SUN
° °
MON
° °
TUE
° °